Read all the way down

"Names on the list will show up 11th Holiday Banquet"




ASL is a native language among the majority of deaf people in communication.
It is a beautiful visual language along with support for facial expressions and body language.

This is going to be an exciting event for all of us at our RDS Annual Holiday Banquet.
Anyone is welcome to be in this competition in order to win big prizes.

More details will be provided on this day and all you can do is to be yourself.

No need to prepare for this competition.
There will be a lot of joy and laughter.


Cash App via $RDSeniors
Write note on Cash App
How many people?
List the names of people



Via Treasurer4RDS@gmail.com
Write note on Zelle App
How many people?
List the names of people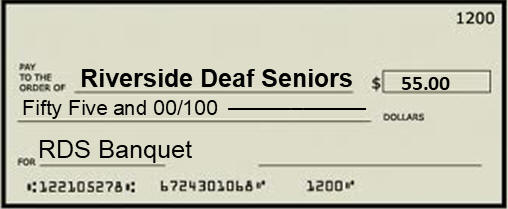 Fill out info on the slip and attach it to your check.
Make sure to list the names of people if
it is more than one.
Write check payable to Riverside Deaf Seniors,
then mail to Susan Tousignant,
2528 Harrison St., Riverside, CA 92503



Give Cash

Give Cash to one of the RDS committee,
given Customer a receipt or written note showing
Committee is responsible to give treasurer.






Names on the list will show up 11th Holiday Banquet
Last Name in Alphabet in Order
List of Participants for
December 9, 2023 - RDS Holiday Banquet
As of 12/02/23
Riverside Deaf Seniors' Webpage